Hire
iOS Developers
Want to hire iPhone app developers for your project? Want to convert your iPhone app idea into a successful app? Great. PayNow, Stripe verified payment partner with over 50K downloads, is one of the best iPhone apps developed by our iOS developers.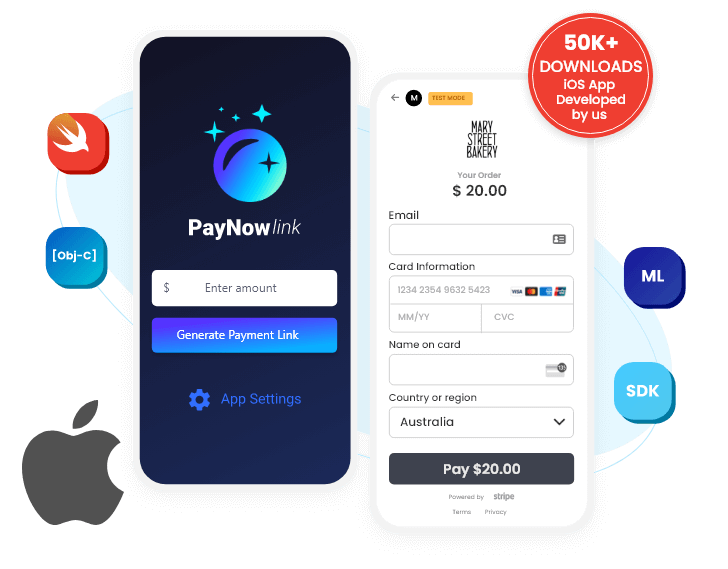 Hire iOS Developers from Space-O Technologies
Want to hire skilled iOS developers from a mobile apps company? Want to outsource your iOS project and focus on the core part of your business? We can help.
The clients, as in you, pay a fixed price for a quality time that our experienced iPhone developers, UX/ UI design experts, and programmers dedicated to developing your app(s). You also receive the necessary system to support to achieve project goals.
To be more specific, when you choose to partner with Space-O for Android or iPhone mobile app development services, you are guaranteed quality services.

Kevin Hong Kong
Recently we worked with Space-O in developing our IOS app for the iPad Dexter and Friends. The project was handled from start to finish with great care, I enjoyed working with Ankit Shah and the rest of the development team. They were very responsive in dealing with minor set backs such as bug fixes. Their quality and assurance team didn't stop till I was completely satisfied with the final product. They also were proactive in suggesting improvements to the user interface and helped us develop an easy to use parental control which allowed our app to qualify for IOS app store's new 'Kids' section. I would highly recommend them if you are looking for a company who will stay within a reasonable budget and deliver a top quality product.
Our iOS Development Services
Want to build your own iPhone, iPad, or Apple Watch app? All you need to do is get iPhone app developers from Space-O. Take a look at our core development services.
Custom iPhone App Development
Need an iOS app that caters to all your requirements? Our iOS app developers use a suitable programming language to build mobile apps with features tailored to your business needs. We have developed successful iOS applications like Glovo, FTCash, Mobstar, and Paynow.
Native iPhone App Development
Have a unique mobile-app idea? Want to make it live and publish it on the App-Store? You must go for native iPhone app development. From ideation, development to deployment, we develop native iPhone apps, with advanced integration of AR, VR, and Blockchain.
Hybrid iPhone App Development
Do you have bigger plans for your app? Why stop at one operating system? We also build hybrid applications that have cross-platform functionality. Our developers are well versed in programming apps that run on Android, iOS or Windows platforms.
iPhone App UI/UX Designing
What makes a new app successful? Its simplicity and design. Why compromise on it? Need pixel perfect design for your iOS app? We have a special team of iOS app designers, having expertise in UX/UI design that easily get approval on the App-Store.
Apple Watch App Development
Why only limit your iOS development strategy to mobile phones? Turn your iOS app into Watch apps and be with your audience. From a location tracker app(using GPS) to payment apps, we develop all categories of Apple Watch apps with easy iPhone connectivity.
Apple TV App Development
Our iOS software development skills are not limited to just mobile or smart devices. We have a fair share of development projects of Apple TV apps for movie streaming like Netflix, Educational apps for TV screens that function seamlessly on any screen.
Top Mobile App Development Company,
Accredited By

JSS 99%
Earned 99% of job success & "Top-Rated Plus" Badge on Upwork.
4.8
Recognized as Top
App Developers by
Clutch.
5.0
Featured in the list of Top 10 Mobile App Development Companies.
4.8
Ranked as "Top App Development Company" by GoodFirms.
Want to Develop a Custom iOS Application?
We have 200+ mobile app developers, experience in developing over 2800 iOS mobile applications for various industries.
Top iOS Apps Developed by Us
We believe our work speaks for us.
Why Hire iOS Developers from Us?

Professional iOS Developers
We have a team of 50+ experienced iOS developers in our team. They have developed various iPhones apps, serving multiple industry verticals.

Fast Development
10+ years of work experience in iOS app development has made us capable of developing at a fast pace without errors. We make sure you receive your product on time.

99% Success on Upwork
We have earned a Job Success Score (JSS) of 99% on Upwork, thanks to our clients. We have also been awarded the "Top-Rated" badge on Upwork.

User Experience
Whether it is Finance, Healthcare, Entertainment, or On-demand services- we take pride in having developed 2800+ iOS apps with great user experience

Non-Disclosure Agreement
We take security and confidentiality very seriously. This is why we sign a non-disclosure agreement with our clients to make sure their app idea is safe with us.

Flexible Hiring Model
We understand each business is different and has different requirements. So we offer flexible hiring models that suit our client's working style.
Hire iPhone Developers
Contact Us

1

Want to hire the best iOS developers? You only need to tell a little bit about your project. Just contact and us one of our sales representatives will understand your requirements. We will send a list of candidates from which you can take any iOS app developer for hire.

Check Resumes

2

Look at the resumes of our top iOS developers that will suit best for your project. And choose the best out of them for your application development. If you need more options, we will be happy to provide more candidates. We promise to find the best software engineer.

Interview the Candidates

3

After you have screened the profiles of the potential iOS developers, it is now time to interview them. This will help you gain clarity over their skills and their value to your project. Have a Skype interview with them, ask questions, and select the best iOS developers.

Understand and Finalize

4

Have any questions about the process, budget, or hiring model? Feel free to ask. We will only proceed once you have all the information you need. You may ask as many questions as you wish and we will make sure we answer all of them. It is now time to start.

Start the Process

5

We make sure that before we start iOS development, our development team signs a document stating that they do not own any right to the code they write for your iOS development. We start a project with an NDA, making sure your iOS app idea is safe.
Industries We Serve
In our 10+ years of experience in Android, iOS, and software development, we have served almost every industry vertical.
Real Estate
We automate property buying-selling, property management, tracking documents, and many other processes. We have experience in iOS development for the real estate industry like the Bada Property app to exchange their property and Reposit app for rental management.
Food & Beverages
From food packaging to delivery, we automate every process in order to streamline the entire activity. We have developed iOS apps for grocery, alcohol, and food delivery. We are the developers behind the development of apps like Glovo, Lacy, and Bevy.
Social Networking
Our iOS app developers have also connected people all around the world with mobile apps. We have developed different social networking apps like Swype- dating app, Loop- event planning app, My Circle- social networking app for close family and friends.
E-commerce
Do you run a business that needs to provide goods and services on-demand? Taking 'Uberization' to another level, we have also developed Uber-like apps for on-demand taxi booking, photographers, package delivery, alcohol delivery, grocery, and food delivery.
Health and Fitness
Whether you want to develop a healthcare app or fitness tracking app, hire an iOS developer from us. We have developed iOS apps like Ryan Spiteri Fitness (personal training and nutrition), Conduet Med (to connect patients and doctors) and Get Fit Buddy (fitness tracker)
Education
Do you need experienced iOS app developers for developing e-learning, new language learning applications? Or an application to connect student-teacher-parent? Our iOS development team has developed solutions like School Reviewer, Counting in Japanese, and Audio Bookstore.
Hospitality
Our iOS developers have developed applications that ease the process of hotel booking, finding restaurants, managing travel expenses, and many more. Our app-solutions include Nuzhah (chalet booking), Gr8dine (restaurant finder), and Travel cutter (expense manager).
Finance
Our iOS development team has developed a range of applications that deal with cryptocurrency, finance management, stock-trading, and more. Some of these are: PayNow for Stripe (Australia's top payment app) and Pocket Wallet (app to store your financial documents securely)
Technology Stack
Swift 4
Objective C

SwiftUi
XCode

Moya

XMPPFramework

QuickBlox

iCloud

Google Drive

Dropbox

Microsoft Azure

ApplePay

Stripe

Paypal

Razorpay

PayFort

PayTab
Our iOS App Development Process
01
Analysis of Requirements
Getting to know the client
Discuss client's requirements
Create project action plan
02
Wireframing & Designing
Create a blueprint
Create wireframes for screens
Design with client's approval

03
Development of the app
Developers start coding
Layout main sections
Get client's feedback
04
Testing & Deployment
Make it 100% bug-free
Get approval from the client
Deploy app to App Store
iOS and iPad applications developed by us


have been featured in
Choose Hiring Models That Fit Your Demands
FACTORS
Dedicated
Team Model
Fixed Price
Model
Hourly Price
Model
On-site Team
Model
Suited For:
Entrepreneur
Entrepreneur &
Startup
Startup Company
Enterprises &
Government Firms
Size of Project:
Large
Medium to Large
Small & Medium
Large
Requirement
Type:
Evolving
Fixed
Fixed
Evolving
Client's
Involvement:
Low
Medium
High
Low
Time Frame:
Estimated
Fixed
Fixed
Estimated
Budget:
Flexible
Fixed
Fixed
Flexible
Frequently Asked Questions
Appreciation from Clients
Space-O helped to design the app in a very user-friendly way. They helped us to navigate solutions for the app.

I would like to thank the entire Space-O team for helping us with our photo editing app. We have been working with other developing teams before, and we were able to find Space-O. And all the other developers failed to deliver all great working apps for us. Space-O helped to design the app in a very user-friendly way. They helped us to navigate solutions for the app. And overall went above and beyond with our request.

They were highly recommended to me by my mentor and I am so glad that I chose to work with them.

This was the first app I've ever developed and they been extremely helpful every step of the way, answering questions, writing recommendations, and tips. If you're looking for a high-quality app, definitely go with Space-O technologies.

We were all quite demanding in terms of quality, but Space-O has managed to go beyond, to fulfill our expectations.

When we started 2 years ago, the main struggle was to find the right developing team, because the problem was we were all quite demanding in terms of quality. And, this showed that we were able to develop some successful apps. But, this would not have been possible without Space-O.
Douglas Laver
Australia
The Space-O team were great to work with. Every part of the process went as per the agreed schedule, and the finished prototype met, and in most cases, exceeded my expectations. While Space-O wasn't the most price competitive of the quotes I received, the quality of their work, professionalism, and product, was well worth the additional cost. Highly recommend, and will continue to use their services for future projects.
Philip
United Kingdom
They performed in all aspects excellently. They have given well-appreciated discounts at various stages of the project and also with suggestions that saved cost. When it comes to delivering, they were always ahead of time. We don't know how they do that but that's very impressive. Their agility and customer support is on a different level, well appreciated.
Ashton Asherian
USA
Space-O Technologies showed genuine interest in the project. The efficient team delivered quality results at a cost-effective price. We wanted to develop a minimum viable product that would be ready for scalability. It was a great experience working with them. We are so happy that we had the chance to meet Space-O. We love their work. Their project management and structure were amazing. The team loved what they were doing. There was passion behind every single piece of work.